About JB Freelance Photography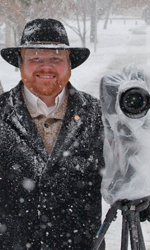 The Photographer behind JB Freelance Photography
A native to Northwest Arkansas and based in Fayetteville, John's first interest in photography began with collecting cameras as a child from antique markets around Arkansas. Later John received a degree in Computer Science from the University of Arkansas. It is his strong knowledge in digital photography, along with a love for the the history of photography that provides for a unique sense of creativity driving many of his projects, including his continued collection with well over 1000 cameras.
John is a member of several professional photographic organizations and is a founder of both the Photographic Society of Northwest Arkansas, and Mid-America Photography Symposium.
/div>
History of JB Photography
More than 20 Years Experience!
John began working with photography studios during college. He quickly excelled and managed two different studios before accepting his current position in communications and photography at the University of Arkansas.
His extensive background in the studio photography and unique creativity is the hallmark of JB Freelance Photography. John brings skill mixed with resourcefulness to his clients. From Weddings to Model Portfolios – Commercial to Nature, JB Freelance Photography has the experience to excel with your assignment.